About Dumfries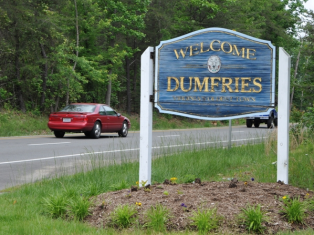 Dumfries history began as early as 1690 when Richard Gibson erected a gristmill on Quantico Creek. The Town of Dumfries was formally established on 60 acres of land at the head of the harbor of Quantico Creek, provided by John Graham. He named the town after his birthplace, Dumfrieshire, Scotland.
The General Assembly established Dumfries as the first of seven townships in Prince William County. The town received its charter on May 11, 1749- making it the oldest continuously chartered town in Virginia. Dumfries was the second leading port in Colonial America receiving tobacco from the upland. It rivaled New York, Philadelphia and Boston and was a thriving port for more than 15 years. Due to numerous factors, Dumfries peaked in size and importance in 1763.
Today, Dumfries is 1.63 square miles in size, is home to 4,961 residents (according to the 2010 Census) and is governed by a town council elected at large, which is composed of a mayor and six other members.